Note: The following event has been cancelled.
The Southborough Scholarship Committee is hosting a March Madness fundraiser.
The committee is calling it a "slam-dunk win for Southborough's students", since proceeds benefit the Town's Scholarship fund.
(Reminder, click here for information on applying to this year's scholarships.)
The event takes place on Saturday March 19 from 7:00 – 11:00 pm at Owen O'Leary's.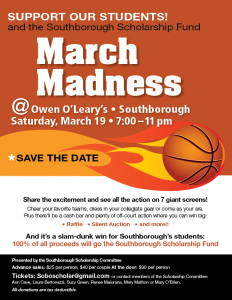 Attendees can watch hoops in action (to track their brackets) on 7 giant screens.
Fun also includes a silent auction and raffle.
Tickets are available through any of the committee members noted on the flyer, or by emailing southboroughscholars@gmail.com.
For more details, click on the flyer.
Updated (3/16/16 10:10 am): I learned from the committee that the event is cancelled. Stay tuned for news on future fundraisers.