As officials work towards updating the Town's plans and priorities for Open Space and Recreation, they continue to seek resident feedback.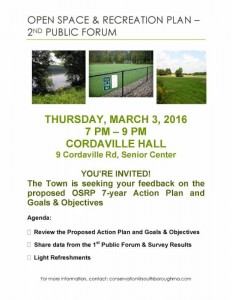 Earlier this month, they held a well-attended forum. Last week, I shared their survey request. Now the Town is announcing a second forum.
This time, it looks like they will be sharing a draft of their new 7 year action plan. Before moving ahead with it, they want to get our response.
The forum takes place this Thursday, March 3 from 7:00 – 9:00 pm at the Senior Center.