A local family is reaching out, especially to the area Indian-American community, for help saving their two year old daughter.
In late February, Mira's family learned that her leukemia, diagnosed last spring had relapsed four months after ending her treatments.
Mira is again undergoing "grueling chemotherapy" and in need of a stem cell donor.
Mira's Fighters have been promoting "cheek swab drives" to find matches. I received an email from a reader telling me that the Indian-American girl's "best chances" of a match are believed to be from another Indian/Indian-American.
According to the Mira's Fighters blog, donation of the needed cells has come a long way from painful bone marrow transplants of old. Non-surgical stem cell donations are now relatively painless: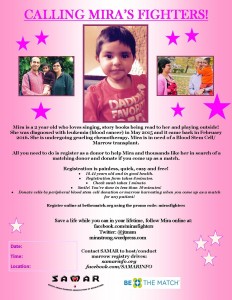 Peripheral Blood Stem Cell (PBSC): This is a nonsurgical procedure that takes place at a blood center or outpatient hospital unit. Your blood is then removed through a needle in one arm and passed through a machine that separates out the blood-forming cells. The remaining blood is returned to you through the other arm. Donors may experience a headache, bone/muscle aches, fatigue and nausea during the procedure. These effects disappear shortly after collection.
One match drive is scheduled for Monday night, March 7th at Shri Gurusthan Sai temple at 108 Otis Street in Northboro from 6:00 pm – 8:00 pm. For more information, click here.
For other drive dates, click here.