Finn SOS is putting on its annual spring Putt Putt Palooza this month. It's coordinated with the bi-annual Finn Art Show.
Save Friday, March 18 for a night of fun for the kiddies.
Families don't need to have Finn students to enjoy the fun. But if you are a Finn family – pre-register by this Friday for a discount.*
Admission includes a slice of pizza, a drink, carnival games, and the title event.
Everyone gets a turn to play a 1/2 round of indoor mini golf.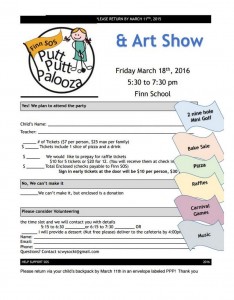 (Really mini, but very cute for the PreK-1st graders and even older siblings.)
For more fundraising action, there's a bake sale and raffle.
While you're there, be sure to walk around the school to admire student art displayed on the walls.
Entry is $10 at the door or $30 per family.*
As usual, event organizers are seeking for volunteers. See the form for details.
*Finn families can pay in advance: $7 per person or $25 per family if they send their envelopes into school by this Friday, March 11.