Above: You can take part in making maple syrup this Saturday at Chestnut Hill Farm. (Image posted to flickr by Audubon Center of the North Woods)
Chestnut Hill Farm is holding another public event this weekend (but not for free).
The farm is hosting a Maple Syrup Day event for The Trustees of Reservations. Admission for member is $12, and $20/family for non-members.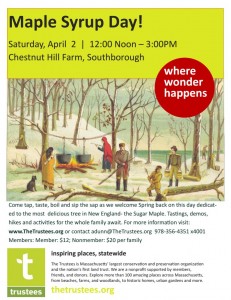 So what is Maple Syrup Day? Organizers are heralding in spring with an old New England tradition, and other promised fun:
Come tap, taste, boil, and sip the sap as we welcome Spring back on this day dedicated to the most delicious tree in New England – the Sugar Maple. Tastings, demos, hikes and activities for the whole family await.
The farm will be offering its CSA program again this year, as well as hosting more events. (I'll be sharing more on that soon.) So, if you're planning on joining up, you may want to get your TTOR membership now. (It's required to join the CSA.)