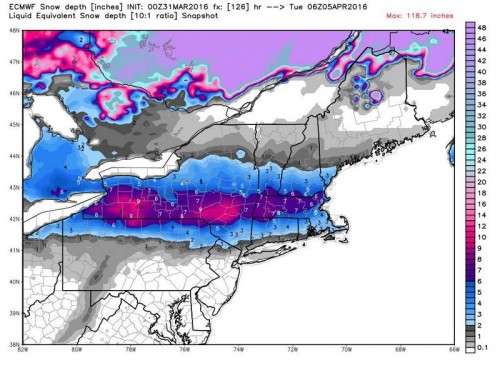 Sitting at my desk by the window, it feels like the Big, Bad Wolf is trying to blow my house down.
According to Southborough Emergency Management, if you're staying in town over the next week, buckle in for a bumpy ride.
But with bouts of beautiful weather mixed in, Lt. Neil Aspesi is calling it a rollercoaster:
If you're not a fan of rollercoasters you may want to book a vacation out of New England for the next several days.

Between today and mid-next week we will ride a weather rollercoaster from 70s today to 30s Monday, from thunderstorms Friday to snow Monday, from strong warm winds today to strong frigid winds Sunday night.

The snow is not set in stone, but unlike the last "all over the place ocean storm" threat last week, this will be coming from the west which will be easier to track. It just needs to get a little closer.

Attached are some preliminary forecasted temperatures and snow fall for Monday/Tuesday. Below is a little more detailed information from Jim Arnold:

As Mark Twain said, "if you don't like the weather in New England, just wait a minute." The next 5 days will bring us about as many types of weather conditions as can be seen in months here in central Massachusetts. Fasten your seatbelts, because this is going to be a wild ride, and certainly one for the books if you are a weather enthusiast.

Today will feature partly cloudy skies and warm temperatures, with temperatures approaching the 70° mark this afternoon, with clouds increasing. It will also become very windy, with southwest winds of 20 to 30 mph occasionally gusting to 55+ mph during the afternoon. Showers and thunderstorms will move into our area later tonight and continue tomorrow. The strong winds of today will diminish and temperatures will remain on the mild side Friday. More showers and the threat of thunderstorms will be our lot Saturday ahead of and along a strong arctic front that crashes through the area later Saturday afternoon or at night. Winds will again increase from the northwest to 20 to 30 mph with gusts to 45 mph late Saturday night and into Sunday. Showers will likely become mixed with or change to snow Sunday before ending around noon. There could be some heavier snow squalls Sunday morning as well. Temperatures will fall to mid February levels, dropping to and remaining in the 30s for the rest of the day. Monday will see a disturbance approach southern New England bringing the threat of a significant early April snowfall.

(click to enlarge)

I have attached model outlooks for the next few days with their current snowfall and temperature estimations. Check them out as they are pretty interesting. As we get closer to the possible snowstorm event for late Monday and Tuesday I will prepare an update.