This Saturday, K-8 children are invited to become American Finn-Ja Warriors. The fun event is to raise funds for replacing playground equipment at Mary Finn School.
Popular Phys Ed teacher Tom McCabe is creating and organizing a fun obstacle course for kids. For a small fee, "Warriors" get 45 minutes to play and challenge themselves on the course.
Registration costs $10 /child, and $5/additional child or $20/family.
Time slots are from 9:00 am to 1:00 pm.*  Parents can spend the time waiting in the cafeteria while enjoying the sale of light refreshments as well as a little local shopping.
Most families with children in Southborough's elementary schools should have received a personalized email link to register.
But your kids don't have to attend Southborough public schools to participate.
If you are interested and didn't receive a link – email maryfinnplayground@gmail.com for a link to register or volunteer. (Please enter in the signup comments field how many children you are registering.) You'll also receive another link giving you the option to pre-pay and/or donate to the cause online.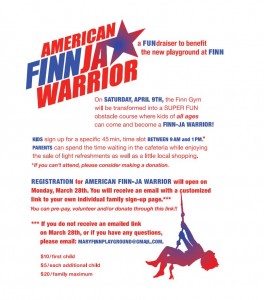 For more details, click on the flyer right.
Remember – the playground at 60 Richards Road is used by more than Finn Students. It hosts the Town's summer camp for pre-K to 1st graders and is open to the community during non-school hours.
If you want to support the project through a direct donation, email maryfinnplayground@gmail.com.
*(The hour timeslots include about 15 minutes of settling in and instruction time before the 45 minutes of play.)