ARHS Boys and Girls Tennis are running a clinic over spring break for 4th-8th graders.
Students can sign up for one or both of the following days: Thursday, April 21 and Friday, April 22*. The fee is $20 for one day or $30 for two. Proceeds go to ARHS Tennis Boosters.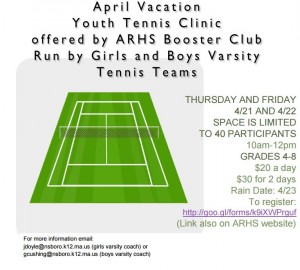 Space is limited to 40 kids, so register before it's too late. To sign up, click here.
For more information, email varsity coaches jdoyle@nsboro.k12.ma.us (Girls varsity coach) and gcushing@nsboro.k12.ma.us (Boys varsity coach).
*Rain date is April 23.
Updated (4/9/16 5:28 pm) I forgot to include the times! The clinics will run from 10:00 am – noon.  (Plus, I was sent the flyer to share.)