Friends of the Southborough Recreation Department will be hosting their annual afternoon of family fun at the South Union Building. "Hop into Savings" this Saturday, April 9 from 1:00 – 3:00 pm.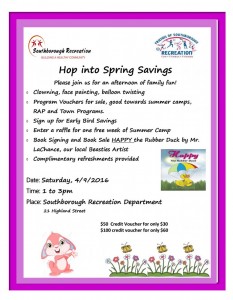 For the kids, they are offering entertainment with clowning, face painting and balloon animals.
And Ray LaChance (former Southborough teacher of "Beasties" fame) will be selling and signing his new picture book "Happy the Rubber Duck."
For parents, the real draw is the reduced rate vouchers* good towards any programs through town rec (including RAP or Summer Camp).
You can buy a $50 voucher for $30 or $100 voucher for $60.
Better yet, is the chance at winning a week of summer camp through the free raffle drawing.
While there, you can also sign your kids up for summer camp at the early bird rates.Check out the summer camps and other programs offered this year here.
You can also take the opportunity to buy discounts for other venues. The Rec Department sells $38 passes for Six Flags NE, which opens this Saturday and will be open throughout spring break week. They also sell Regal Cinema passes for $9.50. Plus, for later in the season, Canobie Lake Park ($33) and Water Country ($33).
*Vouchers are limited in availability, first come first served, two per family.
Updated (4/7/16 10:05 am): It's not one voucher per family. You can get two!
Updated (4/7/16 5:35 pm): Added information about discount passes to other venues.