April is National Poetry Month, and to celebrate, the Southborough Library is again partnering with local Daughters of the British Empire.
Of course, if Brits are involved, there must be tea. (So, if you have a favorite tea cup, you're welcome to bring it with you.)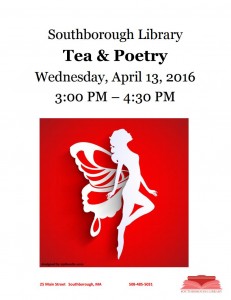 Now in its sixth year, the Tea and Poetry party takes place on Wednesday, April 13 from 3:00 to 4:30 pm.
The event features refreshments and poetry read by members of the community:
You are cordially invited to come and feed the mind and body, relax over a cup of tea, and listen to poetry and prose.

The selections for this year will be about, for, and by women. Refreshments will be provided by volunteers.
All are invited and no registration is required.
For more information, contact the library at 508-485-5031.