Member of Algonquin Regional's Team 1100 got the news this week. Their score at district competitions ultimately earned them a spot in the New England Championships.
The robotics team is set to compete in Hartford, CT today and tomorrow: Friday, April 15 – Saturday, April 16.
The team already racked up two honors at the district tournaments: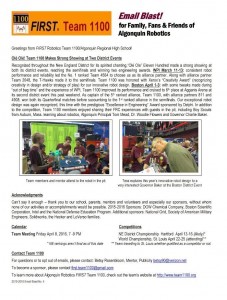 Xerox's Creativity Award – WPI tournament in March
Delphi's Excellence in Engineering – Boston tournament in April
The team is heading to St. Louis this year, where they will either compete in or watch and learn from the World Tournament. I'm routing for "compete".
For more info on the team's accomplishments, check out their "email blast".
Updated (4/15/16 4:13 pm): I just came across this video posted by the school newspaper, The Harbinger. Team members explain the program and their strategy this year.