The Southborough Planning Board has posted notice on an upcoming Affordable Housing lottery.
Almost 8 years after the Woodland Meadows 40B development started making headlines, four 2-bedroom affordable units will be allotted.
The 16 unit development will begin accepting homeowner applications from eligible applicants. Three of the units will be awarded based on "local preference".*
The development on Oak Hill Road is certainly small compared to the Park Central 40B currently in front of the Zoning Board of Appeals. But it had a long, controversial process of its own.
Its history includes apparently contributing to the replacement of a former ZBA Chair (Sam Stivers) in 2011 and another member (Regina McAuliffe) in 2012.
The ZBA came under fire by Woodland Meadows developer Robert Heavey and others. Accusations included dragging their feet on the project and having "an air of disdain" towards development. 
The project was approved in 2010 with restrictions that Heavey considered too stringent. Heavey appealed and reached a settlement with the Town in 2012, with a regulatory agreement signed in June 2013. At that time, construction was forecast to begin soon after.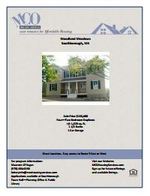 The deadline to apply for the affordable units is June 11th. Qualified applicants will be chosen by lottery on Wednesday, June 22 at 6:30 p.m., 2016 in the Town House Hearing Room.
A public information hearing will be held Thursday, May 19, at 6:30 pm in the Town House Hearing Room.
Each duplex unit is 2 bedroom, 1 1/2 bath, and approximately 1,320 square feet with a one car garage.
For details on the lottery and the property, click the flyers to open the pdf files.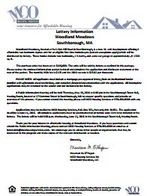 *Local preference is given for three of the four units. Applicants in that pool must meet at least one of the following criteria:
Current Southborough Resident
Currently employed by the Town of Southborough
Currently employed by the Northborough/Southborough Regional School District
Current employee of businesses located in Southborough or who has a bona fide offer of employment in a business located in Southborough
Families of students currently attending school in the Northborough/Southborough Regional School District