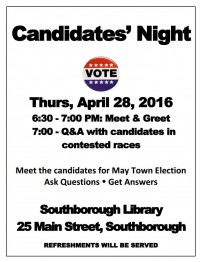 Tomorrow, the Library Board of Trustees is hosting their annual Candidates' Night.
The event gives voters the chance to meet candidates and hear what they have to say.
This year, there are contested races for the Planning Board and Moderator. Candidates for those races will get a chance to address the crowd and answer questions.
The Meet & Greet begins at 6:30 pm, followed by 7:00 speeches and Q&A.
Here's a reminder of who is in the running:
Planning Board – vote for one – 5 year term
Meme Lutrell, 19 Oregon Rd.
Craig Nicholson, 30 Pinecone Lane
(For past coverage on that race, click here.)
Moderator – vote for one – 1 year term
Desiree Aselbekian, 137 Woodland Rd.
William J. Boland, 35 East Main St.
Stephen A. Morreale, 58 Oregon Road
(For past coverage on that race, click here.)