I just got last minute word of two student productions taking place tomorrow and Saturday.
The Snow Queen
Trottier Middle School Theater is putting on a production of The Snow Queen.
Neary students are being treated to the play for free today. The rest of us can buy tickets to an evening and matinee performance.
The play will run at 7:00 pm this Friday, May 6th and at 3:00 pm on Saturday, May 7th.
Tickets are $8 each and can be purchased at the door.
Broadway Nights
St. Mark's is holding another fundraiser for a school in Haiti. Students will perform songs from Broadway musicals.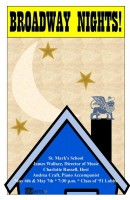 Performances will take place at 7:30 pm on both Friday, May 6th and Saturday, May 7th in the Class of '51 Lobby of  the Putnam Family Arts Center.
The event is open to the community for free. But they will be hoping for donations.
Funds raised will be use for teacher salaries, school programming, and community initiatives in Latournelle, Haiti.