This summer, Algonquin Girls Volleyball team will put on an All Skills camp and a Pre-season Clinic. Both take place Monday through Thursday the week of August 15th.
The morning camp is for girls of all skill levels, entering grades 6 – 9.
This camp is designed to introduce girls of all skill levels, to the competitive game of volleyball. Through this clinic girls will learn skills, positions, strategy, and teamwork all while having fun and meeting the Algonquin Volleyball team and other girls interested in the sport.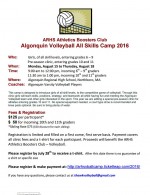 The afternoon clinic is geared for female athletes entering their sophomore and junior years of high school.
Both will be coached by team members. Algonquin Boosters are sponsoring the camps which will be held on school grounds.
Register online by July 28th to receive a t-shirt.
For details, click on the flyer. For more information, email thawkvolleyball@gmail.com.