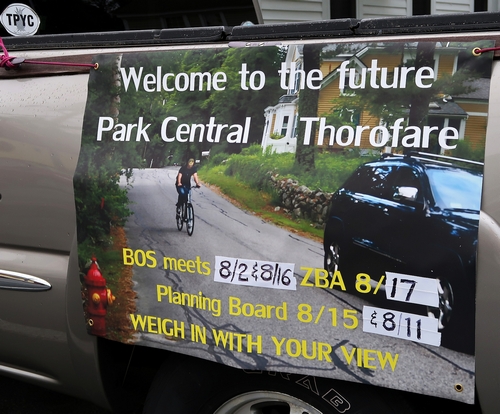 The Zoning Board of Appeals will briefly meet on Park Central developments this Wednesday at 2:00 pm.
But don't call in sick to work. It looks like a meeting you can skip.
The board is just meeting to officially accept the applicant's request for a continuance.
The meeting will take place five hours before the originally scheduled 7:00 pm meeting which was announced as postponed to August 17th. Administrative Assistant Karen Finelli explained that a scheduling issue is behind the time change.
So, they aren't trying to pull the wool over anyone's eyes. Though, a time on the agenda did add to some confusion about what's happening. Finelli apologized for the typo still listing the agenda time at 7:00 pm.
At 2:00 pm, ZBA members will open the hearing, then continue it to August 17th. (It looks like the application deadline will also be extended to August 31st.)
Finelli assures that the board plans to close the meeting without further discussion on the project.
As I previously updated, the Board of Selectmen have put Park Central/Flagg Road safety on the agenda for tonight's meeting. You can check other related meetings in my updated post from last week.