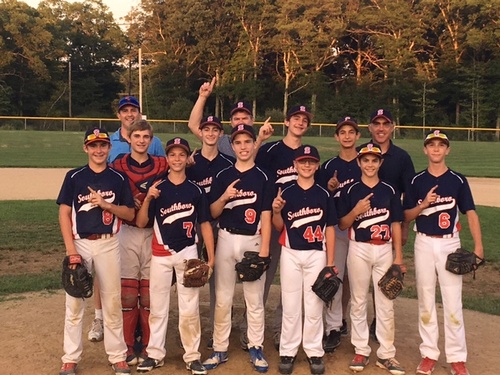 Another Southborough team has honors to share this summer. The team of young teens won the Minuteman Regional baseball championship.
A proud parent shared:
Southborough team takes Minuteman Regional Baseball League Championship

Southborough's team in the Minuteman Regional Baseball league capped off a 9-2-1 regular season and undefeated playoff run with a thrilling 1-0 victory on Friday evening in Plainville.

The Minuteman league is a big diamond league for players 13-16 years old, with 19 teams from Central and Eastern Massachusetts. Our team, with one of the youngest rosters in the league, demonstrated poise, maturity and skill in a season during which every single player contributed with a timely hit, daring baserunning play, stellar fielding play, or clutch pitching performance.

More importantly, on multiple occasions opposing coaches or out-of-town umpires complimented the young men on their sportsmanship and conduct. Congratulations Boys!

Pictured here; First Row: Gavin Gattuso, Jacob Carulli, David Keefe, Chris Blake, Patrick Solomon, Greg Rosen; Second Row: Blake Gattuso, Eric Davis, Colin Kerrigan, Daniel Goldstein; Third Row: Coaches Ed Kerrigan, John Carulli, Chris Keefe. Not pictured here: Aidan O'Leary, Nicket Mauskar, Tony Massaglia, Jeffrey Secrist.