An invitation has again been issued to Southborough's high school students (and all of the 5th Congressional District). This weekend, Congresswoman Katherine Clark is holding the annual free Service Academy Fair.
It's appropriate that Clark is hosting. To get in to one of these academies requires a nomination from her, one of the Commonwealth's U.S. Senators, or the Vice President.
Staff from Clark's office will also be there to answer questions from students about the nomination process.
Military representatives will speak about their academies and be available to answer questions from prospective cadets. Academies participating are: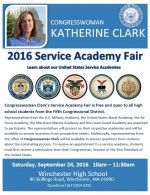 the U.S. Military Academy
the United States Naval Academy
the Air Force Academy
the Merchant Marine Academy
the Coast Guard Academy
The fair is Saturday, September 24 from 10:00 – 11:30 am.
It will be held at Winchester High School, 80 Skillings Road.
If you have any questions, call 617-354-0292.