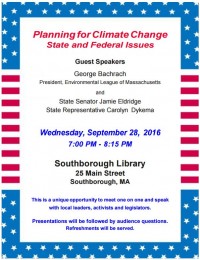 Next Wednesday evening, the Southborough Library is hosting a special forum "Planning for Climate Change: State and Federal Issues".
Speakers will address "What's Being Done to Preserve & Sustain our Environment – and How It Affects Us".
Organizers pitch it as:
a great opportunity to learn how activists, legislators and local environmental groups are addressing the environmental issues that affect us all.
The keynote speaker is the President of the Environmental League of Massachusetts, George Bachrach (a former state senator).
The Environmental League of Massachusetts is a nonprofit committed to protecting Massachusetts land, water, and public health and combating climate change.
Also expect to hear from participating State Senator Jamie Eldridge and Representative Carolyn Dykema on what they are doing to help efforts. Eldridge sits on the Senate Committee on Global Warming and Climate Change and Dykema is on the House Joint Committee on Environment, Natural Resources and Agriculture.
The Southborough forum will also feature brief presentations from SOLF (Southborough Open Land Foundation) and Southborough's Stewardship Committee, Open Space Preservation Commission, and Trails Committee. Following the presentation is a chance for questions, discussion and enjoying refreshments.
The forum is scheduled for Wednesday, September 28, from &:00 – 8:15 pm in the upper main level of the library.
The event is hosted by the Southborough Democratic Town Committee. If you have questions, you can contact one of three organizers: Rose Mauro @ rddmauro@gmail.com, Dan Frank @ d.frank@mindspring.com, or Robert Ross @ rjsross@clarku.edu.