The Rotary Club is holding its annual Scarecrow event. (This year, funds will be used to support the annual Light Up Southborough event, aka the pumpkin wall display.)
Scarecrows will be displayed in front of the Community House for Heritage Day, along the parade route. (Or, you can just keep it in your own yard.)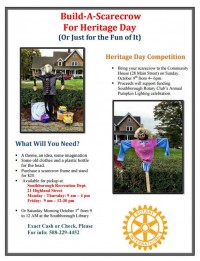 Residents are again encouraged to unleash their imaginations. Some of the best past entries were more funny than scary.
You can purchase the Rotary Club's scarecrow frame and stands for $20 at the Recreation Deparment during regular office hours. Or, stop by the Southborough Library this Saturday, October 1st from 9:00 am – 12:00 pm.
To participate in the contest, entries must be turned in the afternoon of Sunday, October 9th. Drop them off in front of the Community House (28 Main Street) between 4:00 – 6:00 pm.
For more details, see the flyer.