There have been a lot of public meetings and presentations on the Town's proposed land deal for St. Mark's Golf Course and plan to build a public safety building there. And there have been public presentations by golfers seeking to preserve the course alongside the Safety Building.
(In fact, presentations by both the Public Safety Committee and the "Citizen's Golf Course Group" will be made at the Board of Selectmen meeting tonight.)
Now, opponents to building a public safety complex at the site are holding their own public meeting. Proponents of Special Town Meeting Article 4 hope to make their case at a forum next week.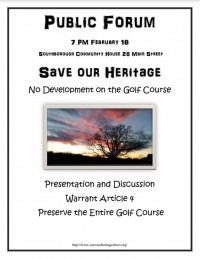 The meeting will be held at the Community House, 28 Main Street at 7:00 pm. Citizen petitioners will present their proposed article and answer questions.
Article 4 asks voters to pursue a Conservation Restriction on the entirety of St. Mark's Golf Course:
Summary: This citizen petition warrant article is tied to Town Meeting's rejection of Article #1 to purchase the Golf Course for construction of a new public safety complex.

Passage of this article indicates to the Selectmen that the Townspeople want them to renegotiate the purchase of the Golf Course in order to preserve the entire property. It requires a Conservation Restriction that allows the golf course operation to continue, helping to make the purchase of the land financially feasible while providing needed recreational opportunities. It establishes a committee representing all key constituencies to design the Conservation Restriction and requires development of a financial package that includes CPA funds, state grants, and golf course revenues.