A Southborough Girl Scout troop is collecting items for families in need. Troop 89255 is working to help Project Just Because.
As the troop shared in its flyer, the local charity is dedicated to:
helping as many men, women and children as we can. It is our goal to help families by being a resource for items that families need, while creating an element of hope for a brighter tomorrow.

The 5th grade troop visited the Hopkinton based charity yesterday. They helped to fill out an order for a family in need. They will be continuing to collect items for other families through this Friday.
They are mainly seeking*: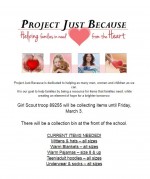 Mittens & hats – all sizes
Warm Blankets – all sizes
Warm Pajamas – size 8 & up
Teen/adult hoodies – all sizes
Underwear & socks – all sizes
Items can be dropped off in a collection bin at the front of Neary School through this Friday, March 3rd.
For more information on Project Just Because, click here.
*Note: The charity's website states that they will accept some gently used items, but there are restrictions:
We do accept gently used clothing & coats. We CANNOT accept the following: Anything with rips, tears, stains, broken zippers, any item with Names inside label, anything without a size listed, anything smelling musty or anything with animal fur, etc. Any items NOT meeting our quality standards will be donated to another charity that we partner with to ensure your donation helps others in need.

Items that must be new are footwear, pajamas, undergarments, blankets, sheets, hats & mittens, and bathing suits. Toys and books must also be new as they are only given out as gifts.