The 10th annual Spelling Bee is zooming our way this Friday. If you want to ensure you have a seat to watch, bee sure to book your tickets soon.
It's the Southborough Education Foundation's big annual fundraiser. Unlike other spelling bees, this is a good natured competition of school community teams "dressed to spell".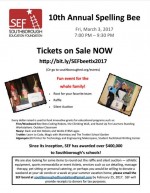 Teams feature Southborough teachers, staff, and students from Southborough schools vying for bragging rights as the town's best spellers.
As usual, doors open early for the silent auction and raffle. (Tip: you may want to bring some address labels to slap on those tickets.)
The event is this Friday, March 3 at Trottier Middle School. The doors open at 6:00 pm and the bee begins at 7:00 pm.
Entry costs $6 pp for up to 4 people, $5 pp for 5+ tickets.
If you aren't familiar with the Bee, here's how it works: 
Several teams compete in each round. The moderator gives the word and each community team works as a group to decide their spelling of it. Their answers are written on white boards.
The audience is encouraged to to test themselves by silently spelling along in their booklets. The round is complete when only one team is left standing. (Figuratively. They actually sit. But, you get it.)
The winning team from each round competes in the final round.
It sounds pretty dry, but it is surprisingly fun. And the kids love seeing the faculty in costume. (For examples, see a past year's post.)
For more details, click the flyer to enlarge. For a look at the Silent Auction prizes, including tickets to Hamilton, click here.