This Sunday, Girl Scouts in Southborough and their families are invited to a "Celebration of Sisterhood" at Pilgrim Church.
The church will be hosing an inclusive, interfaith service in celebration of Girl Scout week. All religions are welcome.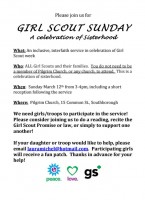 The service takes place at 3:00 pm in the church, located at 15 Common Street. A short reception will follow the service.
Organizers are also seeking Girl Scout members or troops to participate in the ceremony:
Please consider joining us to do a reading, recite the Girl Scout Promise or law, or simply to support one another!

If your daughter or troop would like to help, please email lauramichel@hotmail.com. Participating girls will receive a fun patch. Thanks in advance for your help!