St. Mark's School is again inviting Southborough residents to attend their annual jazz festival.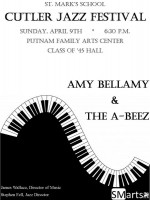 This year, it features a performance by Amy Bellamy & The A-Beez.
On Sunday, April 9th, the performers will join St. Mark's Jazz Band for the school's annual Cutler Jazz Festival.
The concert begins at 6:30 pm in St. Mark's Putnum Family Arts Center, in the Class of '45 Hall.
As always, attendance is free.