Here are highlights of what's happening around town this weekend.
Friday, April 7, 2017
Saturday, April 8, 2017
American FinnJa Warrior (9:00 am – 1:00 pm) @ Mary Finn School, Gymnasium, 60 Richards Road: A fundraiser to benefit a new playground at Finn School. Pre-registration is required and there is a limit. The Finn Gym will be transformed into a super fun obstacle course where kids Pre-K to 5th grade can come and become a Finn-Ja Warrior four 1-hour sessions 9, 10, 11 & Noon. For details, see dedicated post.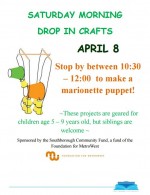 Art Workshop for Children (10:30 am – 12:00 pm) @ Southborough Library, Eaton Meeting Room: Children ages 5-9 are invited to be a part of the drop in art workshops. (Siblings allowed.) This session, children will make a marionette. Registration is not required.  For details, see flyer right.
Sunday, April 9, 2017
Cutler Jazz Festival (6:30 pm) @ St. Mark's School's Putnum Family Arts Center, Class of '45 Hall: Amy Bellamy & The A-Beez will join St. Mark's Jazz Band. The public is invited. For details, see dedicated post.