Proponents of three Citizen Petition Articles are holding a public forum next Thursday evening. The articles are holdovers from the Special Town Meeting. The STM warrant will be re-opened during Annual Town Meeting which opens on April 25th.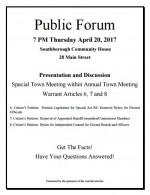 The forum will focus on STM Articles 6-8:
STM Article 6 – (Citizen Petition) Removal Bylaw for Elected Officials: Would ask state legislature to approve language allowing process to recall elected officials.
STM Article 7 – (Citizen Petition) Removal of Appointed Board/Committee/Commission Members: Would outline process for removing appointed officials.
STM Article 8 – (Citizen Petition) Independent Counsel for Elected Boards and Officers: Would allow boards/committees authority to hire independent counsel when special counsel is conflicted out of representing the board. (Currently, boards/committees need to seek approval by the Board of Selectmen.)
Sponsors will present information on and answer questions about the articles.
The forum takes place Thursday, April 20, 7:00 pm at the Community House, 28 Main Street.