The Town Building Commissioner asked me to remind campaigners and supporters about rules for posting political signs. The request came with information alleging that a candidate has been accused of breaking those rules.
Posting signs on private property requires prior permission from property owners. And no political signs may be posted on public property.
According to Town officials, several residents have complained that David Parry has violated both rules.
Parry, a candidate for the Board of Selectmen, rebuts that charges are "fabricated" and part of a "long standing vendetta" against him. (Though who by was unspecified.)
Building Commissioner Mark Robidoux said his office received complaints from several residents about signs purportedly placed without permission. And the Town Clerk's office also confirmed receiving 10-15 complaints. (Clerk Jim Hegarty said they don't log the calls, so he couldn't be more specific.)
They haven't received complaints about any other candidates running this year.
Complaints against Parry include signs placed on private property without permission, plus the State buffer zone on Rt 9 and MWRA properties. Robidoux said some of the latter have since been removed.
The commissioner said this isn't a witch hunt. He pointed out that if elected, Parry will be his boss. But, he said that when people complain about zoning violations, it's his responsibility to investigate.
Robidoux said he looked into it, found multiple incidents where signs were placed without permission/rights and repeatedly asked Parry to get permission first or remove signs.
In contrast, Parry says that he spent extensive time getting homeowners' permission before posting signs. And he denied the accusations about public property.
Robidoux and Parry gave strikingly different accounts of the incidents and their interactions.
Parry asserted that the only public property he was aware that he technically infringed on was the same as other candidates. That is the strip of land between the Main Street road and the stone wall in front of homes he had permission to post at.
He claimed that Robidoux came up to him yelling about that. He said he pointed out that others did the same.
Parry said he asked if moving the signs up against the wall would work and Robidoux said yes. Then he questioned whether other candidates were being asked to move their signs.
But Robidoux says he asked Parry about permissions and asked "pretty please". And he said that the only areas he cared about in front of the stone wall was where the property owner hadn't given permission. He claims that when questioned, Parry admitted to not having permission for some of the placements.
Robidoux alleges that Parry admitted to not having permission to post in front of a house for sale at 85 Main St. When that sign was taken down, one went up in front of another property for sale at 279 Cordaville. Again, there appeared to be no permission given.
And Robidoux said he told Parry one homeowner claimed to have said no to the request to place a sign, only to have one placed anyway. He said Parry responded by claiming that a person who was installing signs for him doesn't speak English and may have misunderstood.
The commissioner also said he told Parry that people were upset by letters he was leaving.* He shared a copy of that letter with me.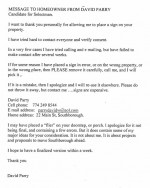 The letter is generically printed "To the Homeowner". It thanks the owner for "allowing" the sign to be placed. But it follows that he had been unsuccessful in attempts to "verify consent". It goes on to say "If for some reason I have placed a sign in error, or the wrong property, or in the wrong place" to remove it and contact him.
Hegarty said that he warned Parry back on April 25th about complaints. When residents called, Hegarty said he has explained that the Clerk's office can't do anything about the signs. He tells property owners they can remove/dispose of the sign, contact the sign owner, or follow up with the Building Commissioner or police.
Hegarty acknowledged that sometimes mistakes can be made about property lines. (He's made one or two himself.) But he said that the complainants expressed aggravation that Parry was putting up signs before getting permission*, then asking through the letter to contact him if they didn't want them.
Meanwhile, Parry contends that the Town's allegations are all part of a long standing vendetta (though not specifying by who.)
To back that up, he pointed to an event back when he ran in 1995. He said at that time, signs of his all across town were stolen. The Northborough Police then contacted him about his signs since they were discovered improperly disposed of. He was able to recover them in time to place them again.
That was an incident he shared through the blog when he ran for selectman again in 2014. (At that time, he charged that someone stole clipboards with voter signatures he had collected.)
Parry is running in a campaign this year with four other candidates for two seats on the Board of Selectmen. The election is a week from today.
This Thursday night, they will be making their case to voters at the Library's Candidates Night.
*Parry's letter indicates he had already received permission in some way, and he claims he did. But residents complaining apparently either interpreted the letter differently or believed it was a sham.