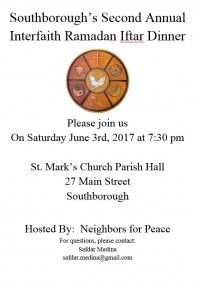 Another community dinner is being hosted by Neighbors for Peace at St. Mark's Church Parish Hall.
Southborough and area Muslims will be holding a special dinner during their month of Ramadan. The Iftar (breaking of the day's fast) party will be held this Saturday, June 3rd.
Organizers are extending an invitation to the entire community, no matter religion.
The celebration begins at 7:30 pm. Participants are encouraged to bring some food to share and spread the word.