It's looking like a beautiful night for a concert! That's good, since tonight is the last night of the Southborough Summer Concert Series.
The band, Boombox, is promising some fun tonight. It's hard to know who will enjoy it more – those of us who loved the 70s and 80s or our kids. The band posted:
Voted "best band to play consistently in parks and on commons" by the Boombox Academy of Voters, we're back with our big and boastful show of '70s and '80s rock, pop and punch. Park your heiny on the lawn in a chair on on a blanket, and bring a snack. And bring the kids! Boombox is known for bringing the young ones on stage to participate in some of the performance. If you've got a tambourine or percussion instrument, bring it!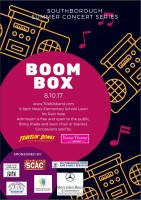 (For a sample of their performance, scroll down.)
As usual, the concert takes place from 6:00 – 8:00 pm on the Neary School field. The Travelin' Bones bbq food truck will be returning, as will Yummy Mummy.
You may also want to bring some pocket change to support Send a Kid to Camp. If you donate $10 or more, you can get a free concert series t-shirt.
The music series is run by Southborough Youth & Family Services and the Recreation Department. It is also co-sponsored by: Friends of Southborough Youth Commission, Southborough Cultural Arts Commission, and Friends of Southborough Recreation, and Mercedes Benz of Shrewsbury.
As promised, here's a sample video of the group on stage. This one features a 70s flashback that morphs into the 80s: