Last week, I posted about upcoming school calendar dates worth noting. It included early dismissals scheduled for this fall.
Southborough Recreation is now offering to help to make that easier for some parents.
The two classes are limited to specific ages – which don't overlap. But for parents who can take advantage of one, it could save them from having to take off a half day of work.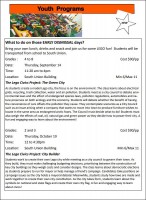 The Rec Department will hold Lego programs at the South Union Building on September 14th and October 19th. The $90 fees cover transporting kids directly from their schools.
Both programs are billed as Lego Civics Projects.
On September 14th*, 4th – 8th graders can take part in "The Green City" – "As students create a model Lego city, the focus is on the environment." Students will act as a city council and debate laws impacting the environment and the economy, etc.
On October 19th*, 2nd – 3rd graders can take part in "City Builder" – "Students work to create their own Lego city while meeting as a city council to govern their town." In this class, students will debate priorities, budgeting decisions, etc.
For more details, see the flyer above right. Registration will begin on September 1st. (You can click here for that.)
*9/14 is an early dismissal date for grades K-8 in Southborough. 10/19 is only early dismissal for Finn & Woodward schools.