The 14th Annual Southborough Summer Nights is scheduled for tomorrow night – Saturday, August 26 from 5:00 pm to Dusk. I don't know about yours, but my family can't wait.
Here's a visual reminder of some of the fun you can expect at tomorrow night's bash. (Click thumbnails to enlarge)
I will be taking photos tomorrow, but I'd love to get your shots, too.
E-mail me your favorite pics from the event to mysouthborough@gmail.com. I hope to post a gallery early next week.
Now, here is the information you need.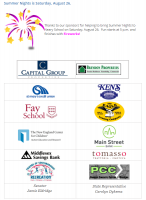 Free fun "made possible"
None of this would be possible without the event's many sponsors and volunteers. Southborough Recreation asked me to thank them. Click on the image right for the list of this year's big sponsors.
Parking
Parking is available at both Neary & Trottier Schools. (However the access road between is closed.) There is a designated drop-off/pick up site on Parkerville at Lundblad Field. (I'll update this post when I get this year's specific instructions about parking and traffic restrictions. But they are generally similar. You can click here for details from a previous year.)
Schedule

5:oo pm – Dusk: Free kids' attractions, Booths, and Food Vendors (Click map to enlarge for information on activities layout.)
6:00 – 8:00 pm: The Boston Naturals
Dusk: Fireworks
Details
Booths exhibiting local businesses and organizations. Many offer great freebies, so be sure to visit. (On the map, these are represented by the curved light blue line near the picnic area.)
Vendors include: The Children's Workshop, New England Music Academy, Speech and Language Therapy, Middlesex Savings Bank, Fay School, Main St. Bank, Skyrise Childrens Theater, Bay Path Humane Society, The Dental Oasis, Southborough Youth Basketball, Villaris Martial Arts, and Renewal by Andersen.

Rope Bridge Crossing – One exhibitor asked me to help raise special awareness of their booth – Cub Scout Pack 1 Southborough.
The Scouts will be inviting kids to climb across their rope bridge again this year. They're hoping parents and boys will take a moment to ask them questions, and maybe even join up!
Test drive "robots" –

ARHS Robotics will be back with their hands-on activities on the tennis courts. (I'm not sure if that will be free this year or a fundraiser. But, even when they charge a fee to participate, it's peanuts. And it's always free to watch.)
Free Attractions –
Pony rides
Face Painting (by professionals)
Rock Climbing Wall
Inflatable Moon Bounces
65' Inflatable Obstacle Course
Video Arcade on Wheels
Photo Booth
Basketball Shootout
Balloon Artist
Food Vendors – between the school and playground.
This year's food trucks and booths are:
The Southborough Firefighters Association's Pulled Pork sandwiches (smoker on site)
Yama Fuji's Asian Fare
Phinix Grille with Mediterranean food that specializes in cleaner, healthier fare
Trombetta's Creamery
Dean's Concessions
Domino's Pizza
Yummy Mummy Brownies.
Music: Bring a blanket or some chairs to enjoy your eats on the field. While you're chowing and catching up with old friends, you can enjoy the live band on stage. This year, it's The Boston Naturals, promising to play:
rock, blues, pop, funk, reggae and sometimes a little bit of country. . . all with unrivaled energy and passion.