Southborough Youth Basketball registration for 1st – 8th grade is now open:
All children of all skill levels are encouraged to play!! No previous basketball experience is required
The season is expected to begin mid-November and run through late February. But the registration deadline is October 15th.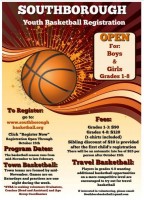 For players in 4th-8th grade there are two good reasons to register early.
Travel teams tryouts are planned to begin October 1st.
Players can get a jump on the season through three free clinics starting this Sunday:
SYBA is very excited for the upcoming 2017-18 basketball season. As a primer for both the Town and Travel basketball programs, the SYBA will be hosting two pre-season basketball clinics on Sunday, September 17th and Sunday, September 24th FREE OF CHARGE to all registered SYBA Boys and Girls. This year's clinics will be run by Joe Dicruttalo, Senior Director of the Metro Swarm AAU basketball program (http://www.swarmaaubasketball.com).

Here are the specifics for the two sessions:

Location: Trottier Middle School
Dates: Sunday, September 17th and Sunday, September 24th
Times/Grades: 5:00pm – 6:30pm – 4th and 5th Grade Boys and Girls
6:30pm – 8:00pm – 6th, 7th and 8th Grade Boys and Girls

Players MAY attend both sessions for their age group!
All players must first be registered for the current season of Southborough Youth Basketball. If not yet registered for the season, please do so HERE.

To register for the free clinics, please click HERE.

These sessions will be a great opportunity for the kids to have some fun while "dusting off" or newly developing their basketball skills. As a reminder, we will be holding our Travel program tryouts starting Sunday, October 1st (more details to follow shortly).

Please bring a basketball (if you have one) and a water bottle to each pre-season session. We hope to see you there!
For more details on the SYBA program, or to register, visit southboroughbasketball.org. If you have any questions, please email southborobasketball@gmail.com.