If you haven't explored the Art on the Trails exhibit at Beals Preserve, you have ten days left to do it. The exhibit will be closing on the 24th. To mark the end, a Poetry Walk is planned for that day.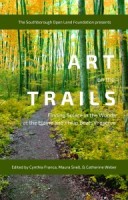 A call for poems inspired by exhibits on the trail went out this spring. 20 poets heeded the call. From their submissions, 25 poems from 13 poets were selected to be published in a chapbook published by The Tishman Review.
(You may recognize some of the names as Southborough residents.)
During the September 24th "Plein Air Poetry Walk", a dozen poets will read their poems at the art installations that inspired them.
Here is the announcement:
Closing & Poetry Walk for Art on the Trails: Finding Solace in the Woods
Sunday, September 24 4-6 pm Beals Preserve

(click to enlarge)

Join us on a Plein Air Poetry Walk and listen to poetry written in response to the art installations along the way. This one-mile easy walk begins at the Main Entrance kiosk. Refreshments will be served.

Poets reading their work are Kiera Akus, Brian Bogosian, Chelsea Bradway, Lisa Breger, Cynthia Franca, Trisha Knudsen, Michele Mendelson, Mary Pinard, Carla Schwartz, Maura Snell, Lawrence Spezzano, and Catherine Weber.
To register for the event, click here.
But you don't have to wait for the 24th to enjoy the art. You can always head there by yourselves to enjoy the art along the Beals Preserve trail. For a reminder of what Art on the Trails is (and to see a map of the trail and exhibits), read past coverage or visit artonthetrails.com.
Southborough Open Land Foundation will also be guiding two walks on the preserved land the day prior as part of Hike Southborough Day. But those walks aren't tied to the exhibit. In fact, the morning one will focus on wildlife tracking. (Stay tuned for details on that.)