If your child is seems stressed about school – either due to academic pressure or social issues – Southborough Youth and Family Services wants to help.
Last year, SYFS held Stress Management classes for Trottier Middle School students. It must have been well received by students and families, because the agency has ramped up the program. This fall, they are adding on classes for the lower Southborough public schools, plus Algonquin.
The free series begins in October and runs for 10 classes. Classes are split by grade groups based on the schools. The classes for middle and high schoolers will be split by gender.
SYFS staff and graduate-level interns will discuss with students issues including:
Development of coping skills
Building a new relationship with stress
Time Management
Achieving success and reaching goals at school and at home
Creating positive peer relationships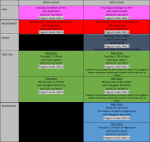 Finn, Woodward, and Trottier students can take classes either before or after school. Neary and Algonquin classes are offered after school.
For the class schedule, click on image right.
Space is limited and registration is requested by September 29th. To register, click here to open the registration form.
(Note: The schedule includes registration codes that should be used in the registration form. You can also use the same form to sign kids up for SYFS' Project Friend. For details on that program, click here. For the full SYFS program guide, click here.)