It's a quiet week in Southborough compared to recent ones. Here are highlights of what's happening around town.
[Note: The highlights don't include ongoing weekly programs. For those listings and more, check the Event Calendar.]
Tuesday, September 26, 2017
Adult Coloring for Seniors (1:00 – 2:00 pm) @ Southborough Senior Center: Come enjoy a stress free activity that relaxes the brain and allows your mind to get the rest it needs. Adult Coloring Books will make your life a whole lot brighter. Supplies will be provided by the Senior Center. (Feel free to bring your own).
Thursday, September 28, 2017
Home Firearms Safety Class (6:00 – 10:00 pm) @ Southborough Senior Center, 9 Cordaville Road: Southborough Police are offering a non-firing safety class that will "enable you to apply for an LTC or FID". The class requires pre-registration and is only for town residents aged 18 years and older. Seating is limited. For more details, see dedicated post.
Friday, September 29, 2017
Bingo for Seniors (12:00 pm) @ Southborough Senior Center: Come join Michael Gagliardi from "Around the Clock"for an afternoon of Bingo, fun, prizes and of course, jokes. Bingo will start promptly at noon. Please sign up through the Senior Center at (508) 229‐4453. (You can also join them at 11:45 am for a pre-Bingo lunch. Bring your own or $3 to purchase one.)
Saturday, September 30, 2017
Papier Mache Workshop (10:30 am – 12:30 pm) @ Southborough Library, Eaton Meeting Room: The Bigelow Center for Arts will be here for a special art program. Children will be creating papier mache bird masks for the Heritage Day Parade. This is the first of two sessions. In this session, children will form the mask. The following week is for decorating and painting the dried masks. Space is limited. This is for children ages 5 and up. Please register for this program in the Children's Room.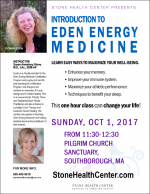 Sunday, October 1, 2017
Intro to Eden Energy Medicine (11:30 am – 12:30 pm) @ Pilgrim Church Sanctuary: Free class offers to teach easy ways to maximize your well-being: Enhance memory, improve immune system, maximize athletic performance, benefit sleep. Led by Stone Health Center's Susan Amesbury Stone, M.S. LAc., EEM-AP