Southborough Youth Services is holding its annual Halloween Party for Southborough kids on Friday, October 27th. If you have young ones, you'll want to save the date. If you have teens, you may want to nudge them to sign up as volunteers.
Helping out with the party is a fun way to rack up some community service hours. Volunteers help set up, run games, help with the "haunted house" on stage, tell fun/spooky fortunes, etc. The shift is from 6-9 pm. (Volunteers don't need to worry about dinner. They will be provided pizza.)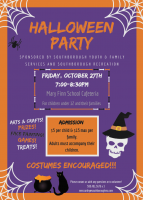 Anyone interested can contact Meaghan McCarthy, Assistant Director of SYFS, at mmccarthy@southboroughma.com or 508-481-5676 x 3.
If you are looking for details to attend – the event is for kids 12 and under and families. (Kids must be accompanied by an adult.) Admission is $5 per child, max $15 per family.
Once inside, everything is free: games, prizes, face painting, art activities and loads of treats.
Costumes are encouraged for children and adults attending the party.
Note: This is for Southborough residents only, please.