Results from the Downtown Survey are back. But, I can't tell you what they were – at least, not yet. A meeting to present the findings is scheduled for this Monday.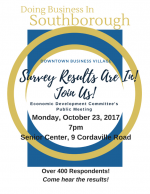 The Economic Development Meeting is inviting the business community and residents to attend the presentation. Findings from the over 400 responses will be shared at the Southborough Senior Center (9 Cordaville Road), at 7:30 pm on October 23rd.
In August and September, the EDC sought community feedback on a vision for preserving and/or improving the Downtown Business Village.
Some readers may be wondering, "Isn't the Main Street Reconstruction Project taking care of that?"
Unfortunately, that project doesn't extent to the businesses East of Park Street.* Plus, the construction project only deals with the roadway and sidewalks, not what types of business/residential uses are allowed in that zone.
The committee promoted the survey by pitching it as data needed for shaping the future of the area. Their plan is to work with outside groups like the Urban Land Institute to "help us refine our goals based on resident feedback from the survey and our open sessions."
If findings support changes to improve downtown, the EDC is expected to use the data when seeking grants and expert advice.
EDC's stated hope was to create a revitalization plan for the village. They were targeting the next Annual Town Meeting in the spring for "consideration" of a plan. For more detail on their roadmap for improving downtown, see my September post.
*(Main Street was considered too narrow in the area just East of Main Street to fit the road design for the reconstrution project. That means, the project doesn't cover the area with Mauro's Market and Cafe, Southborough House of Pizza, etc.)