Northborough-Southborough Girls Lacrosse registration is open to the public for the upcoming Spring, 2018 season. The sport is open to girls in both towns in grades 1 through 8.
Registration may be limited by the the number of coaches who volunteer and field availability. So register your daughter soon.
(As for your sons – in case you missed my post on boys lacrosse – they're holding an Info Night tonight. Click here, for those details.)
After, November 30th, registrants will incur a late fee. (The last date to register at the higher rate is January 10th.)
The spring season begins for 3rd-8th graders in mid-March and 1st/2nd-Graders in early April. It generally runs through mid-June.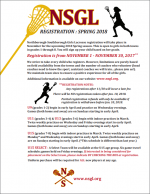 Games take place on Sundays. The practice nights are noted by age group on the flyer right. (And how many sports offer the practice schedule before you register? Kudos to NSGL!)
For more information, check out the flyer.
For further details, visit their website, nsgl.org. It has a FAQ page that should answer most questions.