Opiod addiction is officially a public health emergency as of last week. Now what's being debated is how to effectively tackle the national problem.
But forget about the national politics of it. Next week, parents in our community have the chance to learn more about what they can do to address the risks to their own kids.
Parents are invited to a special film followed by a discussion panel. The focus is avoiding and/or dealing with drug use and addiction in teens.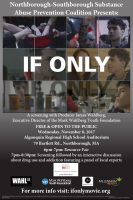 The event is put on by the Northborough-Southborough Substance Abuse Prevention Coalition. It features viewing of "If Only"*:
a short film intended for teens, parents and adults to raise awareness about the dangers of prescription drug misuse and abuse and to start a conversation that encourages the safe use, storage and disposal of prescription drugs to keep them out of the hands of kids.
The event will be held the evening of Wednesday, November 8th at Algonquin Regional High School, 79 Bartlett Street, Northborough.
It will begin with a resource fair from 6:00 – 7:00 pm just outside the auditorium. At 7:00 pm in the auditorium, the film will be screened by Producer James Wahlberg, Executive Director of the the Mark Wahlberg Youth Foundation.
The film will be followed by testimony from a parent. That will lead to a panel on drug use and addiction featuring local experts. The event is expected to wrap up at 8:30 pm.
The event is a continued effort by NSSAPC to educate parents on drug problems in youth. The group is a coalition of:
community members of both towns working together to reduce substance abuse and offer information for those needing substance abuse treatment.
In May, they sought to raise parents awareness of the red flags of drug use "Hidden in Plain Sight" and train them on dealing with an overdose. If you'd like to learn more about the organization (and joining it), click here.
*The film is presented by the Mark Wahlberg Youth Foundation, Recovery Centers Of America, and Millennium Health. To learn more about the film, click here.