New York City is hopping each December with tourists. This year, Recreation is offering residents a chance to join the bustling crowds without making the long drive.
Southborough Rec teamed up with Ashland Rec to offer a day trip to NYC. The jaunt takes place on Saturday, December 9th. But to register, you need to register by Friday, December 1st.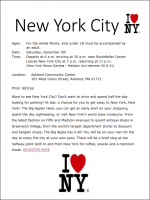 The trip is for all ages, but anyone under 18 must be accompanied by an adult.
A "luxury coach"* will pick up and drop off from Ashland's Community Center (162 West Union Street). The bus will depart at 6:00 am and return by about 11:00 pm. That will give visitors from 10:00 am to 7:00 pm to make the most of the city.
For more details see the flyer right. To register, click here.
*As described by Ashland Rec.