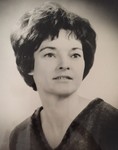 [Editor's Note: Over my holiday break, I missed news of the passing of this former Southborough resident, whose funeral service took place in town last week.]
Phyllis (Murrin) Swift, 89, passed away peacefully with her two daughters by her side, on December 20, 2017 at the River Garden Senior Center in Jacksonville, Florida.
She was the wife of the late Robert B. Swift Sr. and the daughter of the late Thomas Leo and Margaret Glenfield Murrin.
The former Mrs. Massachusetts in 1968, Phyllis grew up in Dorchester and graduated from Dorchester High School as Class Treasurer and graduated cum laude from Burdett College, before marrying Robert Swift in 1950. The couple lived in Framingham for 17 years, where Phyllis was an active homemaker, mother and volunteered in the community. After the death of their daughter Barbara Jean, the family moved to Southborough where she became involved in St. Mark's Episcopal Church, in her children's activities, as a Girl Scout Leader, and became the Dartmouth Women's Club President and the Southborough Garden Club President, while working with her husband in the Dry Cleaning business and management of rental properties. In the early 80's, Phyllis began working as a successful Real Estate Broker and was elected as the President of the Board of Realtors. In 1990, Phyllis and Bob moved to East Falmouth where Phyllis sold house lots in the Falmouth Airpark and obtained her co-pilot's license. When she wasn't selling lots and homes, Phyllis was flying up and down the east coast with her husband in their Bonanza airplane, as they wintered in Vero Beach, Florida. She also became a dedicated member of the Church of Messiah Episcopal Church and founded the two Red Hat Ladies groups at the Falmouth Airpark and in her Vero Beach Florida community. In 2011, Phyllis moved to Jacksonville, Florida with her daughter, Doreen and her family.
Phyllis loved her husband, children and grandchildren and they were the first and foremost in her life. In all of her activities, she was personable and tried to make people feel comfortable, welcomed and included, as she put the needs of others before her own. Phyllis always had a smile on her face and a wonderful disposition of friendliness and humility. Phyllis' sense of humor enabled her to prevail the many tragedies and challenges she endured throughout her life. Gardening, gourmet cooking, sewing and walking around the airpark and along the shore lines were among Phyllis' favorite hobbies when not co-piloting or spending time with her family. Most of all, she was always agreeable to playing games with her three grandchildren and willing to act in their homemade videos.
Phyllis is survived by her children, Kerry Swift and his wife, Kristine of Ware; Judy Fairfull and her husband Richard of Whitinsville; Doreen Swift Morningstar and her children Amanda, Luke and Mitchell of Jacksonville, Florida; her beloved sister, Janet Razin and her husband Sheldon.
In addition to her husband and parents, she is predeceased by her daughter Barbara Jean and her son Robert Bruce Jr
Visiting hours are Wednesday, December 27 from 5:00 to 7:00 PM at the Morris Funeral Home, 40 Main Street, Southborough.
A funeral service will be held on Thursday, December 28 at 10:00 AM at St. Mark's Episcopal Church, 27 Main Street, Southborough. Burial will follow in the Edgell Grove Cemetery, 53 Grove Street, Framingham.
In lieu of flowers, memorial donations can be given to the Alzheimer Association, alz.org or to the charity of your choice.