Southborough Youth and Family Services is looking for help from Middle School aged residents. Their goal is to get advice on how to better serve that age group.
Here's their pitch to the 5th – 8th graders:
What do you think teens need in Southborough?
Would you like to see a change in your community?
Do you feel like something needs to be added to the town for kids?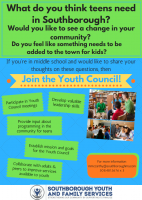 If you're in middle school and would like to share your thoughts on these questions, then Join the Youth Council!
Participate in Youth Council meetings
Develop valuable leadership skills
Provide input about programming in the community for teens
Establish mission and goals for the Youth Council
Collaborate with adults & peers to improve services available to youth
For more information, contact Meaghan McCarthy at mmccarthy@southboroughma.com or 508-481-5676 ext. 3.
(Click here to open the printable pdf of the flyer.)