Southborough residents are invited to St. Mark's gleeful celebration of music. It's the 26th anniversary of the school's annual a capella festival. As the school previously shared:
The Wick Choral Festival was established in 1992 in memory of Myron A. Wick, SM Class of 1933 in honor of his lifelong enjoyment of singing, through the generosity of the Wick family and friends.
In addition to their students, the free concert includes groups from area high schools (including Algonquin), and each night features a college ensemble.
Here are this year's details: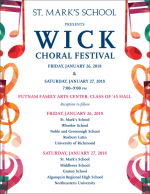 The Annual Wick Choral Festival
St. Mark's School
Class of 1945 Hall, Putnam Family Arts Center
Friday, January 26 and Saturday, January 27
7:00 – 9:00 pm
Friday:
St. Mark's
Wheeler School
Noble and Greenough School
Roxbury Latin
University of Richmond

Saturday:
St. Mark's
Middlesex School
Groton School
Algonquin Regional High School
Northeastern University
The event is free and open to the public. The concerts are followed by a reception.