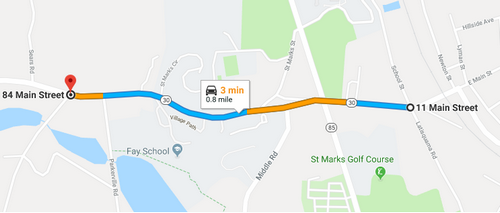 The Southborough Police Department posted a warning on Facebook to seek alternate routes around work being done on Main Street from School Street to Parkerville Road next week.
This isn't the Main Street Reconstruction project begun early. It's crews for the gas company that will be working during morning rush hours next week and through most of the day. (Hopefully, barring emergencies, evening rush hour won't be as big an issue.)
PLEASE BE ADVISED:

Eversource Gas and contract crews will begin work along Main Street in Southborough ‪starting on Monday, January 22, 2018‬. This work is a system improvement project that begins near School Street and ends near Parkerville Road. Officers and message boards will help assist traffic through the area.

Crews will work ‪Monday thru Friday, 7:30 a.m.‬ to 4:30 p.m., weather permitting. Please seek alternate routes, if possible.