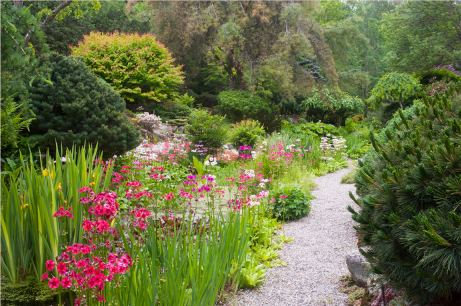 In two weeks, you can view "Gorgeous Gardens" at the Southborough Library. As you may have guessed, it will be a virtual tour.
The Library is hosting a presentation by resident, photographer, and landscape architect Joanne Pearson. The event will take place on Thursday, February 8th from 7:00 – 8:30 pm on the main level.
Using a colorful slideshow, Pearson will take attendees on a visual tour of some of the most gorgeous gardens in New England – public and private.
She will also discuss elements of garden design and photography. Pearson's website explains her expertise on both topics:
For over 25 years, I've specialized in capturing evocative photographs of architecture, interiors, lifestyle and food for editorial, commercial and hospitality clients, but I started off my working life as a landscape architect.

Back then I worked on a creative team that included architects and interior designers working on large scale commercial projects. I designed exterior spaces to complement the architecture and was often asked to photo document projects. On vacations, my cache of photographs was filled with images of design details and the vibrant colors and character of exotic locales that helped to inform my work. It didn't take me too long to figure out that I was more passionate about making photographs that captured design and lifestyle than designing landscapes.
Attendees will receive a list of well known and not so well known public gardens they can visit.
Light refreshments will be served. The program is sponsored by The Friends of the Southborough Library. The event is open to the public, no registration required.