If you want to encourage your 5th – 8th grade daughter(s) to explore a future in science, technology, engineering or math, take note.
The Northboro Junior Woman's Club opened registration for its annual STEM conference for girls. The event is free and welcomes Southborough students – so I really encourage girls to make the most of this opportunity.
The event is more than three weeks away. But, don't delay signup too long. The popular conference is limited to 180 girls, always fills to capacity, and girls may have preferences for which workshop they hope to attend. The good news is that sign up is easier this year, thanks to online registration.
This year, the conference is on Saturday, March 24 from 8:30 am – 1:30 pm.
It will again be made up of an opening presentation, interactive workshops and informal discussions over a luncheon. To encourage interest and success in the science fields:
The presenters will explain what they do in their occupation and what sparked their interest in the field, share different tips on courses of study needed for their profession, and provide hands-on exploration/activities.
The hands-on career workshops planned for this year are: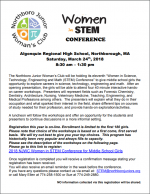 Architecture
Chiropractor – The Biochemistry of Super Nutrition
Computer & Electrical Engineer – Virtual Reality
Conservation Agent – Going Green
Environmental Health & Safety Engineering – Hazardous for your Health?
Forensic Chemistry – CSI
Nursing
Occupational Therapy
Ophthalmologist – Do you see what I see?
Pharmacist – Pharmacy Olympics
Research Scientist – Drug Design
Science Teacher
STEM Educators – Bristlebot Robot
Veterinarian – Vet for a Day
To see more workshop and event details click here to open the flyer. To register, click here.
This is the 11th time the Junior Women's Club has held the mentoring event (previously titled Women in Science & Math Conference.)
Thank you Northborough Junior Women's club for organizing such a worthwhile event. And for free!