The Southborough Senior Center is holding another "Nutrition for Life" program. This time, the focus is teaching seniors about a "trendy" and easy to make ahead breakfast.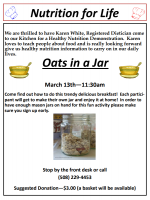 The center's Registered Dietician Karen White will return to their kitchen for a Healthy Nutrition Demonstration. Seniors are invited to learn how it's done, make their own jar, and enjoy it at home.
(It's an overnight recipe – so you probably shouldn't show up too hungry!)
The event is next Tuesday, March 13 at 11:30 am. In order to have enough mason jars on hand, participants are asked to sign up early.
To register, call 508-229-4453. The suggested donation for the program is $3 per person.
Updated (4/26/18 12:08 pm): The event was cancelled due to snow that day. A new date was just announced – Tuesday, May 15th.