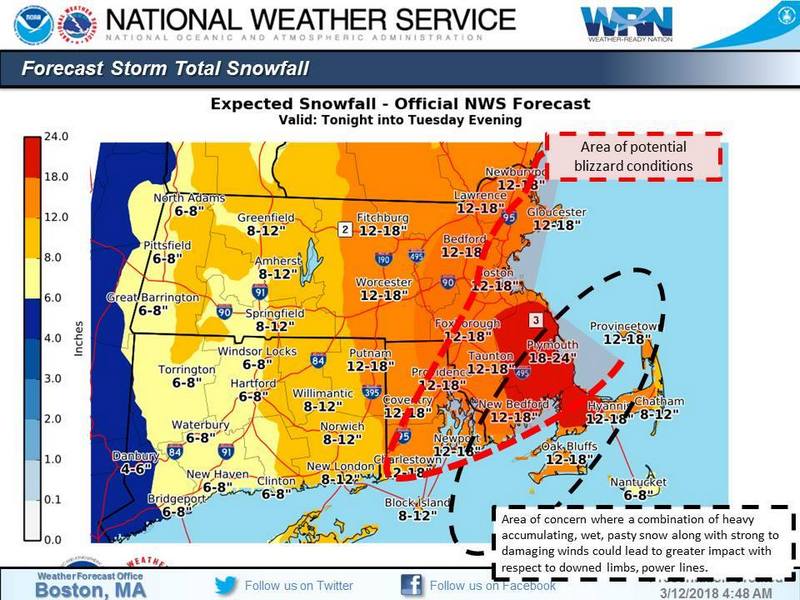 I doubt there's a Southborough resident that doesn't know another Nor'easter is headed this way. I was hoping that the forecast would improve with time. But, there's not much luck there.
The blizzard warning has moved East since yesterday. But we're still expected to have snow falling at rates of 1-3″ per hour at some points with wind gusts up to 32 mph at their peak.
There are some things that NWS is pretty certain about. Even in the best case scenario (with less than 10% probability), we'll get over 4″ of snow. There's also a slim chance of up to 2 ft of snow. Far more likely is that we'll fall in the 12-18″ band again.
The last time the National Weather Service predicted that we'd get 12-18″ of snow, we got it. (I don't have an official count for Southborough, but we were in a measured 12-18″ band with Westborough measuring 16.9″. The first couple of inches melted. But, as demonstrated by all the broken trees, it started sticking pretty well after that!)

Click on the image right from the hourly details cropped from NWS' website.
Snow isn't expected to start until around 10:00 pm tonight. But it should continue until about 8:00 pm tomorrow.
Temps are forecast at mainly just under freezing when snow begins to really hit, through the end of the storm. (That doesn't bode well for my hopes that snow will be light and fluffy. But, at least it's better than last week's above freezing temps. So, fingers crossed!)
So far, no one is posting closing notices. It's worth noting that if schools are forced to cancel as anticipated, that would move our last day of public school into the week of June 25th.
Updated (3/12/18 6:36 pm): No surprise given the forecast – School is cancelled in Southborough (and Northborough) for tomorrow, March 13, 2018. I'm sure other cancellations will follow.
Updated (3/12/18 9:50 pm): The Library will also be closed.
Updated (3/13/18 8:01 am): Town offices are closed today. NWS is showing 100% chance of over 8″ by end of day and 69% chance of over 12″. The good news is, so far, 0 reported power outages in town.