A week from Friday, teachers and staff from Southborough schools will be pitted against each other in a feud. The Southborough Education Foundation is holding a fundraiser that's sure to be family friendly fun.
SEF promotes:
Our first annual SEF Family Feud, pits the staff of Southborough's great Finn and Woodward Elementary Schools against each other for a night of heated competition, cheering, and fun!

A great recreation of the popular TV game show presented by Boston's Urban Circus will leave guests cheering for the fastest hands and quickest wits! Survey says: fun!
Though the teams will hail from just two schools, the fundraiser extends to the community beyond. (Even though my kids have moved up from those lower schools, they're looking forward to seeing familiar faces on stage.)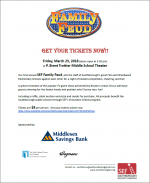 And the money that SEF raises is used to fund innovative educational programs for all Southborough public schools, K-12.
The Family Feud event will take place on Friday, March 23rd at Trottier Middle School. Doors will open at 5:30 pm (for the raffle, silent auction, and refreshments). The competition kicks off at 6:30 pm.
Admission is $8 per person. You can purchase tickets in advance here.
Traditionally, SEF has held the Spelling Bee in March, which was their biggest annual fundraiser. This year, they wanted to revitalize it – trying something different to get students and families excited. I think they found a winner.
My family loves this game show. Unfortunately, at home we've often had to be quick with the remote, thanks to increasingly ribald humor. I'm sure that won't be a problem at Trottier on the 23rd!